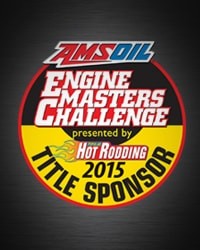 Engine Masters presented by AMSOIL Premieres 11/23 on the Motor Trend Channel!
An all-new show is coming to Motor Trend's YouTube channel beginning Nov. 23 – Engine Masters, presented by AMSOIL. Each episode features parts testing and engine-to-engine shootouts on the dyno. In the debut episode, find out what single bolt-on part adds 50 hp to a small-block Chevy already capable of producing 500 hp.
Hosts David Freiburger of Roadkill, Steve Dulcich of Engine Masters Magazine and dyno guru Steve Brule of Westech Performance Group provide a blend of fun and information in this video dyno diary. New episodes will be added about every other Monday over the next several months starting Nov. 23.
The show was inspired by the annual AMSOIL Engine Masters Challenge, presented by HOT ROD. Each October, the top engine builders in the country gather at the University of Northern Ohio to see who can build the most powerful engine. Tests designed to measure torque, power and performance are administered to each engine, but only one team can come out on top to earn the title of Engine Master.
AMSOIL's Ed Newman says, "Waiting a full year to get back in the dyno room was too long for us. 'Engine Masters, presented by AMSOIL' lets you fuel your passion for power and performance every other Monday."
Here are the YouTube links to the introduction and the premier episode:
https://www.youtube.com/watch?v=OkT7erjhIe8