Two Products/Two Price Points-
A Product for Every Customer Willing to "Move Up" to AMSOIL
An AMSOIL Customer is a customer for life.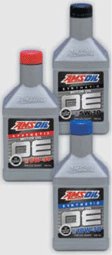 Change oil at OEM-recommended drain intervals

API SN Certified
ILSAC GF-5
Full Synthetic
AMSOIL Quality
OEM-Recommended Drain Interval
GM dexos1™ (5W30)
Even motorists who understand that synthetic oils perform better than conventional petroleum oils have sometimes balked at the initial cost.
AMSOIL OE Synthetic Motor Oil brings you a new generation of synthetic oil customers – customers who have always wanted the performance, protectionand benefits of synthetic motor oil but were reluctant to pay extra for it.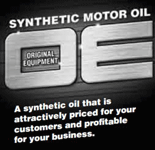 AMSOIL OE Synthetic Motor Oil helps motorists cross the  last barrier to experiencing the benefits of synthetic motor oil.
AMSOIL OE Synthetic Motor Oil is an entry-level, full-synthetic motor oil designed for motorists seeking to move up from conventional motor oil and take advantage of the benefits of synthetic motor oil.
AMSOIL OE Synthetic Motor Oil offers the benefits of AMSOIL synthetic motor oil at a drain interval recommended by vehicle manufacturers. See your customers at the same frequency as when they used petroleum oils.

Change oil at intervals of up to10,000 miles or six months*

API SN Certified
ILSAC GF-5
Full Synthetic
AMSOIL Quality
10,000 Mile/6-Month Drain Interval
GM dexos1™ (5W30)
Many motorists find frequent oil changes a time-consuming hassle. In addition to extended service life, AMSOIL XLSynthetic Motor Oils are designed to provide cleaner operation, reduced deposits, better protection against sludge and varnish formation, reduced wear and excellent fuel economy for additional savings. AMSOIL XL Synthetic Motor Oils also help reduce environmental impact due to lower volatility and less waste disposal.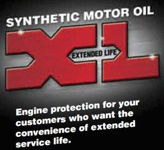 In short, AMSOIL XL saves consumers money while delivering profits for oil change professionals. When you recommend AMSOIL you are recommending the world's leading independent synthetic motor oil.
* AMSOIL XL Synthetic Motor Oils provide superior performance for up to 10,000 miles/six months, or longer when recommended in owners' manuals or indicated by electronic oil life monitoring systems.

Both OE and XL Synthetic Motor Oils are rated API SN and ILSAC GF-5, with the SAE 5W-30 viscosities recommended for the new GM dexos1™ specification.

For only about $10 more than the average petroleum oil change, you can upgrade your customers to a synthetic oil change for all the performance benefits synthetics have to offer, offer a quality brand people are looking for, still see your customers as often as you always have, and make more money than you currently do on petroleum oil changes!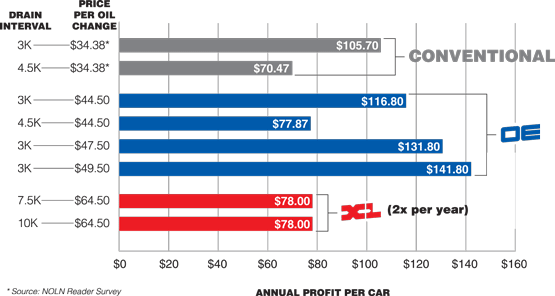 The chart shows how a properly priced AMSOIL oil change boosts your bottom line while simultaneously providing all the benefits of a premium synthetic motor oil, including better wear protection, improved fuel economy, easier cold-weather starts, excellent thermal stability and cleaner engine operation. While most oil change facilities recommend customers return every 3,000 miles, statistics show that the average customer actually drives approximately 4,500 miles between oil changes. Regardless of whether your customers adhere to a 3,000-mile recommendation, practice a more typical 4,500-mile drain interval or participate in the XL Program, AMSOIL is the most profitable choice for installers.
 CALL US AT 800-745-5055 FOR MORE DETAILS AND PRICING, OR CLICK HERE FOR EMAIL!
Promo Items Help You Sell…An AMSOIL banner and other sales tools are yours FREE
when you open an AMSOIL account with an initial qualifying purchase of either five cases of quarts, four cases of gallons, one drum or one tote of either XL or OE.*
You'll receive:
• One "Move up to AMSOIL" Banner
• 25 OE brochures for waiting area
• 25 XL brochures for waiting area
• One Countertop P-O-P Literature Display
• 27 Oil Change Reminder Windshield Decals
* These materials are available with any viscosity purchased.
Freight discounts and co-op advertising programs are also available. Ask us for details.
AMSOIL can also provide
• AMSOIL logos for your website.
• Radio advertising scripts.
Contact us for comprehensive ordering, shipping and sales tax information.Existing accounts that have already received a banner kit will receive the new kit when purchasing a qualifying order of OE oils.
Premium performance for those who want only the best:
AMSOIL formulates a wide selection of synthetic lubricants for all types of engine and gear applications including motorcycles, boats, commercial vehicles and all types of powersports equipment.
In addition AMSOIL offers sophisticated fuel additives, filtration systems and other companion products that supplement lubricant performance, especially in severe operation conditions. Some of the best-selling AMSOIL products that have been proven to deliver additional profits for installers are: European Car Formula, P.i. Performance Improver Concentrate, Automatic and Manual Transmission Fluid, Severe Gear® Gear Lube, and Premium Diesel Oils.
CALL US AT 800-745-5055 or FILL OUT THE FORM BELOW FOR MORE DETAILS, PRICING AND TO OPEN AN ACCOUNT