AMSOIL is "The First in Synthetics" Since 1972
A Commitment to Excellence in Synthetic Lubrication

The First In Synthetics"®
The History of AMSOIL
As a jet fighter squadron commander Lieutenant Colonel Albert J. Amatuzio had ample opportunity to witness synthetic lubricants in action. These oils are used exclusively in jet engines because of three extraordinary performance characteristics: an ability to reduce friction and wear on engine components, an ability to function dependably at severe temperature extremes and an ability to withstand rigorous and lengthy engine operation without chemical breakdown.
Recognizing that these same benefits would prove invaluable in combustion engines, Al Amatuzio formulated the first synthetic motor oil in the world to meet API service requirements for automobile engines. The new lubricant performed like no other before it. When the first can of AMSOIL 10W-40 appeared on the market in 1972, it signaled the birth of an entire industry. AMSOIL synthetic lubricants have expanded the boundries of lubrication science and redifined the performance possibilities of modern machinery and engines.



AMSOIL INC. was founded on Al Amatuzio's desire for technical innovation, his commitment to high quality and his belief that consumers would respond to a superior product. The company has remained true to these ideals; its history is a checklist of revolutionary products that have withstood the tests of time. As the pioneer corporation in the field of synthetic lubrication, AMSOIL sees its Commitment to Excellence as a historical responsibility, and A.J. Amatuzio's energy and vision continue to drive the company forward.
AMSOIL is The Company of Firsts
Documented History of Innovation and Leadership
First to develop an API rated 100 percent synthetic motor oil.
First to introduce the concept of "extended drain intervals" with a recommended 25,000-mile/12-month drain interval.
First U.S. company to utilize the NOACK volatility test as a standard of performance excellence.
First to produce synthetic motor oils for diesel engines, racing engines, turbos and marine engines.
First to introduce synthetic oils that legitimately contribute to improving fuel efficiency.
First to manufacture synthetic gear lube for automotive use.
First to manufacture a 100:1 pre-mix synthetic 2-cycle oil.
First to manufacture a synthetic automatic transmission fluid for automotive use.
AMSOIL – First in Synthetics, Second to None
The Products
AMSOIL formulates a wide selection of synthetic lubricating oils for all types of engine and gear applications, including those for specialized vehicles and severe operating conditions. In addition, AMSOIL has developed sophisticated fuel additives, filtration systems and other companion products that supplement and extend lubricant performance.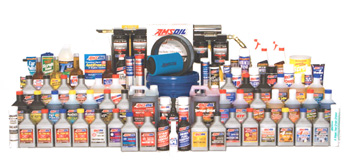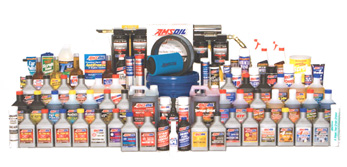 This complete line of qulaity products is recognized by countless private motorists, fleet managers and industrial administrators as the best and most cost-effective choice for increasing engine performance, reducing maintenance and prolonging vehicle and equipment life.
Facilities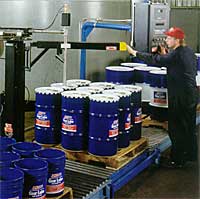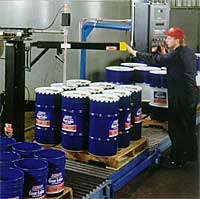 The AMSOIL corporate headquarters, manufacturing plants, and main distribution center are located in Superior, Wisconsin, with several regional warehouses strategically located throughout North America and overseas. These facilities cover a total of more than 300,000 square feet.
The state-of-the-art lubricant production plant contains materials blending and bulk storage facilities, as well as high speed canning lines and packaging equipment. A separate plant is thoroughly equipped with specialized tools and machinery for the manufacture of AMSOIL's various air and oil filters. The main warehouse serves as the hub of a global distribution network; bottles, cases, drums and totes bearing the AMSOIL label are shipped worldwide. Capacity is geared to meet projected market demands decades away.
Research and Development
Research and testing are high priorities at AMSOIL. Specialists in every facet of synthetic lubricant technology staff our research and development facilities. The chemical and engine test laboratories are well equipped with the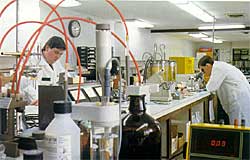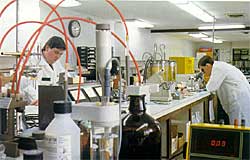 sensitive analytical instruments needed for design and development of the world's finest oils.
Quality assurance test procedures are rigorous and begin with analysis of every single barrel of raw material that enters the plant. Both during new product development and as a continuing control on the manufacturing process, AMSOIL lubricants are subjected to an exhaustive series of standardized industry tests, including those that measure film and shear strength, flashpoint, volatility and high- and low-temperature viscosity.
No other lubricant manufacturer in the world matches the high quality standards set by AMSOIL, and all AMSOIL synthetic lubricants exceed industry specifications by a wide margin. Our 100% American-made products pass even Europe's more stringent tests with "flying colors."
Field Testing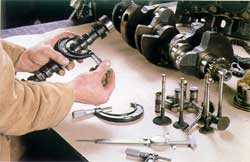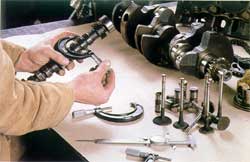 Even the most comprehensive lab testing must be validated in the field. AMSOIL products are proven in intensive field demonstrations involving automobiles, trucks and commercial and industrial equipment in real-world service situations.  Long-range studies have involved vehicles requiring the most sever lubricant applications: taxicabs, delivery fleets, police and emergency vehicles, over-the-road transports and heavy-duty construction and industrial machinery.
Results of test performed under these extreme operating conditions demonstrate that AMSOIL products reduce engine wear, decrease maintenance time, maximize fuel efficiency and increase fleet cost effectiveness.
The final, conclusive proof of any lubrication product is, of course, the superior performance acknowledged by satisfied consumers and cost-conscious fleet managers.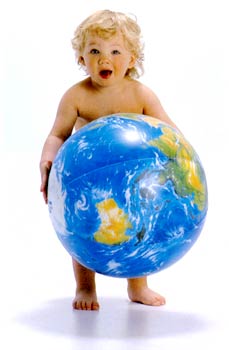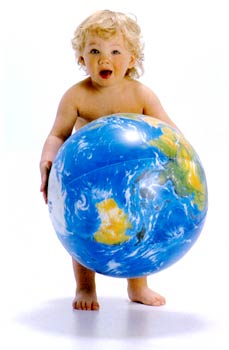 Environmental Impact
As our world strengthens its environmental policies and grapples with pollution issues, the ecological wisdom of using synthetic lubricants becomes obvious. AMSOIL synthetic motor oils outlast regular petroleum-based oils by as much as eleven times. These remarkably long drain intervals help ease the world's waste-disposal problem: users of synthetics simply have much less oil and fewer plastic containers to deal with. The combined use of AMSOIL motor oil, air and oil filters and engine oil analysis has now made one-fill, zero-waste lubrication a reality.
The superior lubricity of AMSOIL products means much less friction, drag and wear on critical engine parts. The resulting improvement in fuel efficiency and reduction of emission levels contribute to the conservation of natural resources and protection of the atmosphere. Additionally, AMSOIL has made the technology of biodegradability a top research priority, with encouraging recent successes.
AMSOIL INC. is determined to meet the challenge of the lubrication industry's environmental responsibilities head on. Our long-standing quality products lead the way to a greener, healthier planet for the next generation.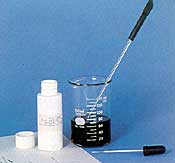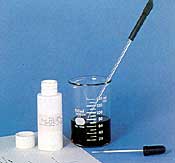 The Future with AMSOIL
Our world relies on technology to meet ever-increasing demands of transportation, manufacturing and industry. The use of high quality synthetic lubricants to meet these demands has grown steadily. However, tomorrow's needs will be different from today's. AMSOL INC. anticipates these needs and will remain on the leading edge of new developments.
As engineering and automotive technologies progress and generate higher performance machinery, it is certain that synthetic lubrication will be the ONLY choice for most applications. AMSOIL will maintain its Commitment To Excellence and continue to set the standards by which other lubricants are judged.
AMSOIL has been the leader in quality synthetic lubrication for over four decades, and will continue to introduce dynamic and innovative products to meet the challenges of the 21st century.
---