We Offer our Experience and Expertise to Help You
Let us Know How
We welcome the opportunity to personally work with you as your servicing AMSOIL Dealer to help you with your specific needs, technical and application questions, obtaining AMSOIL products, and dealership.
Call us Toll Free: 800-745-5055 Or you can Email Us
Biographical Info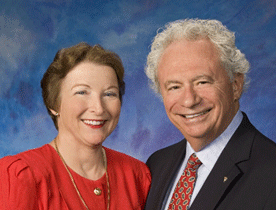 Tom has a Bachelor of Science Degree in Business and Management from the University of Redlands (California) and a Masters Degree in Management from the Peter F. Drucker Graduate Management Center, Claremont Graduate School, at Claremont, California. He  has a second Masters Degree, a Masters Degree in Christian Ministry from Friends University, Wichita, Kansas. Sheila has a degree in Liberal Studies from Crafton Hills College, Yucaipa, California. Tom worked for a Fortune 250 corporation for over 34 years living in the central and southwest part of the United States, retiring very early from senior management at age 52 to work their thriving AMSOIL Business full-time.
In 1979, Tom and Sheila started their AMSOIL Business part-time in Newton, Kansas, 25 miles north of Wichita. They became Direct Dealers the third month in the business, and  Direct Jobbers the fifth month. They continued to work their AMSOIL Business as time permitted until 1997 when the timing was right for Tom to leave Corporate America. If they had not started their AMSOIL Business in 1979, Tom would not have been able to walk away in 1997 from a 6-figure income to do what he wanted to do and go where he wanted to go. Tom and Sheila were very pleased to serve for several years on AMSOIL's Leadership Council, representing dealer issues, concerns, and ideas to the other Dealers on the Council as well as AMSOIL Corporate Staff.Tom and Sheila are






Regency Platinum Direct Jobbers and are living on Lake Oconee in Georgia's Lake Country in Greensboro, Georgia, after living in the central and western part of the United States for many years. They have been married since 1968, and have a son, daughter-in-law and two grandsons nearby. Their goal is to continue building their AMSOIL Business, going where they want to go and doing what they want to do. The personal and financial freedom AMSOIL provides is the secret to their success..