Available May 1, new AMSOIL 15W-60 Synthetic V-Twin Motorcycle Oil (MSV) expands the V-Twin family. It is recommended for the popular Indian* Scout* and all Victory* motorcycles, providing opportunities for sales where none existed before.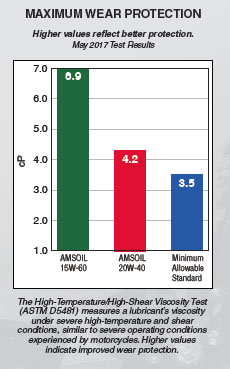 Like the rest of the V-Twin line, 15W-60 Synthetic V-Twin Motorcycle Oil is designed to resist extreme heat and deliver excellent wear protection. Summer riding can cause engine temperatures to skyrocket, especially in slow-moving rally or parade traffic, which places added stress on the oil and invites chemical breakdown and wear. AMSOIL 15W-60 Synthetic V-Twin Motorcycle Oil's outstanding heat resistance helps bikers ride with confidence in the most extreme conditions.
AMSOIL 15W-60 and 20W-40 Synthetic V-Twin Motorcycle Oil provides Indian and Victory riders with the confidence and security that comes with receiving maximum protection and performance for their bikes. It presents a premium alternative to higher-priced manufacturer-branded oils.
*All trademarked names and images are the property of their respective owners and may be registered marks in some countries. No affiliation or endorsement claim, express or implied, is made by their use. All products advertised here are developed by AMSOIL for use in the applications shown.