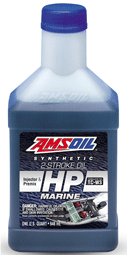 AMSOIL HP Injector Synthetic 2-Cycle Oil is now AMSOIL HP Marine™ Synthetic 2-Stroke Oil. AMSOIL HP Marine™ Synthetic 2-Stroke Oil is the high-performance marine 2-stroke oil.
AMSOIL HP Marine™ is formulated with MAXDOSE™, a system of advanced additives for "super-clean" operation. It helps prevent deposits that lead to poor performance. In field testing, HP Marine™ inhibited ring deposits that can cause ring sticking and ring jacking (carbon build-up behind the ring, forcing it outward), a phenomenon that occurs in modern DFI outboard motors. It also virtually eliminated exhaust port deposits for reliable, efficient operation.
HP Marine™ is recommended for use in all two-cycle outboard motors including, but not limited to, Johnson® and Evinrude® FICHT® & E-TEC™, including motors using lean burn setting (replaces XD100™ 2-Cycle Oil); Mercury® EFI & Optimax®; Yamaha®; Nissan® and Tohatsu® TLDI®; Suzuki®; Mariner® and Force®. Use as injection oil or as 50:1 pre-mix where NMMA TC-W3 or API TC oils are specified.
Click here to check out AMSOIL HP Marine™ Synthetic 2-Stroke Oil.