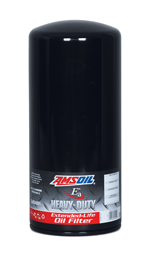 Now – AMSOIL Ea® Heavy-Duty Extended-Life Oil Filters! AMSOIL has expanded the Ea® Oil Filter product line to provide extended service intervals that coincide with the maximum drain intervals of AMSOIL Synthetic Motor Oils for on- and off-road heavy equipment.
AMSOIL EaHD Oil Filters are engineered to provide excellent efficiency and capacity throughout extended-service intervals. They are rated at 20 microns absolute, which ranks them among the most efficient oil filters available for heavy-duty applications. AMSOIL EaHD Oil Filters should be changed at time of oil change, not to exceed one year.
AMSOIL EaHD Oil Filters have lower restriction than conventional cellulose media filters: their small synthetic fibers trap smaller particles and hold more contaminants, resulting in lower restriction.
AMSOIL Ea® Heavy-Duty Oil Filters are recommended for heavy-duty on- and off-road gasoline and diesel applications including, but not limited to, over-the-road trucks, dump trucks, refuse haulers, school buses, farm tractors, mining, construction and industrial equipment and more. Popular manufacturers include Caterpillar, Peterbilt, Mack, Kenworth, John Deere, Ford and several others.
Check them out here: AMSOIL Ea® Heavy-Duty Extended-Life Oil Filters