Meet the 2014 Legends Car National Champion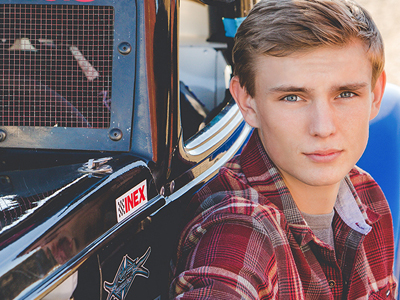 "We use AMSOIL products in everything we run — motorcycles, snowmobiles, personal cars and the race cars," said Joe Ludeman, Alex's father and a mechanic on the racing team. "In the race cars, we have noticed increased power and longevity."
A Legends car has a fiberglass body that is designed to look like a vehicle from the 1930s. Ludeman's blue and black car (No. 38) resembles a 1934 Ford. The vehicle is powered by a 1200cc Yamaha motorcycle engine. "Most of our competitors in the Legends car racing circuit need to have their motors reconditioned after about 20 races," Joe Ludeman said. "We have been going about 30 to 35 races and have never lost an engine."
It's a big deal, Ludeman said, because the engines are sealed. "We are not allowed to tear them down, which means in order to have them reconditioned they need to be sent to Las Vegas or North Carolina and it costs around $2,500 plus freight," he said.
The Ludeman car runs AMSOIL 10W-30 Advanced Synthetic Motorcycle Oil in the engine and AMSOIL Severe Gear® 75W-140 Gear Lube in the differentials.
Each track is different, so the mechanics change gear sets to accommodate the track. The Ludeman mechanics drain the gear lube and reuse it for about 15 races before using new lube. According to Joe Ludeman, the AMSOIL gear lube is always clear of any signs of debris.
A lot can happen in the course of a race. Joe Ludeman talked about a road course race in Portland, Ore.
"Alex was going down the back stretch at about 130 mph when the oil filter vibrated loose, spewing oil everywhere," Ludeman said. "Alex quickly hit the kill switch then spun out into the infield. After he was towed back in, we replaced the filter and had to add 3 1/2 quarts of oil and it only holds 4 quarts. There was zero damage to the motor, and we finished the road-course season with that same engine. Alex ended up fourth in the world in road-course points. We owe a lot of our success to AMSOIL."