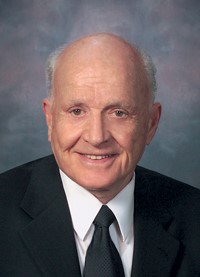 On April 1, AMSOIL, Inc. announced the passing of AMSOIL founder, Al Amatuzio. He passed peacefully on the night of Friday March 31 in his home, surrounded by loved ones.
Al was known throughout his community and the AMSOIL organization for his drive, tenacity and passion. Born on May 6, 1924 in Duluth, MN, Al's entrepreneurial instincts began when he was young. He sold newspapers and magazines, collected scrap iron and worked hard to help support the family through difficult times.
Al went on to serve in the Merchant Marines and the Air Force, and eventually in the Duluth, MN, unit of the Air National Guard 179th Fighter Inceptor Squadron retiring as a Lt. Colonel. Al always said he didn't strap himself to the plane; he strapped the plane onto him! He served 25 years as a fighter pilot and was honored twice as our nation's top pilot. It was during his time as a jet fighter pilot that he was inspired to explore the idea of synthetic oils.
Al wanted to understand why jet engines would start in the extreme cold temperatures of Northern Minnesota, but his car wouldn't start. He learned that jet engines could only survive with synthetic oil – and he decided that the same performance benefits could be applied to cars, trucks and other vehicles.
Al began a period of research and development in 1963. Many were skeptical, but Al went on to create the very first API-approved synthetic motor oil in 1972 recommended for 25,000 miles or 1 year for use in passenger vehicles. AMSOIL synthetic motor oil would become the first synthetic oil to meet American Petroleum Institute service requirements. At that time, few people believed in Al's pioneering invention. They called it "fake oil". He had trouble getting his new company, AMSOIL, off the ground. At first, others in the industry wouldn't allow him to join industry organizations because he oil was "real". But over time, the industry began to realize the inherent value in what Al had created. Eventually, other businesses would go on to develop their own synthetic motor oils, and thus the synthetic oil market was created following the lead of AMSOIL.
Al changed the motor oil market by creating the synthetic oil industry. He built his business with integrity, taking good care of the people who worked for him. He became known for his generosity as he gave back to his community and supported causes for children, animals and the military. He truly appreciated all of his Dealers and worked tirelessly his entire life. He never really retired, and he never stopped looking for new Dealers. He had AMSOIL in his blood and Dealers on his mind to the very end. Al infused these high ideals into the AMSOIL Company and the Dealer network.
We at Best Oil were fortunate and honored to know and work with Al over many years since 1979. He was a trailblazer, tenacious, and a man of impeccable integrity and stamina. He will be missed.