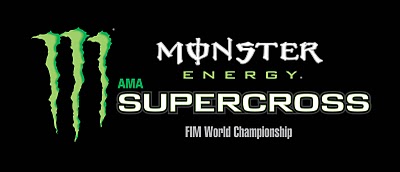 Feld Motor Sports℠ announced November 3, 2010, that AMSOIL signed a multi-year agreement to be the official and exclusive oil of Monster Energy Supercross, an FIM World Championship, that begins January 8, 2011 at Angel Stadium in Anaheim, Calif.
The three-year agreement marks the company's first partnership with the Monster Energy Supercross championship. AMSOIL began sponsoring motorcycle racing in 1999 and their dedication to showcase their industry-leading synthetic lubricants to the legions of Monster Energy Supercross fans is the next step in their commitment to racing.
"The Monster Energy Supercross sponsorship helps solidify our presence in the motorcycle market," said AMSOIL Race Program Manager Jeremy Meyer. "Supercross brings exceptional television coverage, competition and a dedicated fan base week-in and week-out. Their fans demand a high-quality product at the track and AMSOIL has an excellent opportunity to showcase almost 40 years of quality products."
In addition to their on-site presence at the 2011 Monster Energy Supercross championship, AMSOIL will be featured on the CBS Sports and SPEED television package with more the 90 hours of programming.
"AMSOIL's rich, 40-year heritage has provided the perfect springboard to their involvement in supercross racing for more than a decade," said Todd Jendro, senior director of operations, Feld Motor Sports. "Throughout the years they have created a relationship with topsupercross racer Kevin Windham, and their support to the world's largest indoor, off-road motorcycling racing championship signifies their commitment to excellence. Feld Motor Sports is proud to welcome AMSOIL to our family of sponsors of Monster Energy Supercross"
The 2011 season starts January 8.