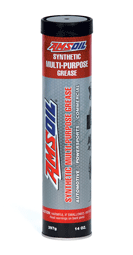 AMSOIL Synthetic Multi-Purpose Grease is now even better!
AMSOIL reformulated Synthetic Multi-Purpose Grease with calcium sulfonate complex thickeners to provide even better protection and performance.
The new thickener allows AMSOIL Synthetic Multi-Purpose Grease to provide improved extreme-pressure properties, corrosion resistance, oxidation resistance, high-temperature stability and water resistance at the same price as the previous formulations.
AMSOIL Synthetic Multi-Purpose Grease is qualified against the highest grease standards and designed for multiple-use applications. Composed of premium-quality synthetic base oils and calcium sulfonate complex thickeners, AMSOIL Multi-Purpose Grease provides exceptional film strength, shear resistance, adhesion properties and mechanical stability.
It excels in temperature extremes by providing excellent oxidation stability, high-temperature dropping point and low-temperature torque value and pumping capability. AMSOIL Synthetic Multi-Purpose Grease is formulated with oil soluble extreme-pressure additives for heavy loads, as well as oxidation and corrosion inhibitors.
Check it out here: AMSOIL Synthetic Multi-Purpose Grease