AMSOIL products were promoting environmental sustainability long before it became fashionable. Today, AMSOIL's environmental management system extends well beyond the products and has been registered to the ISO 14001:2004 standard.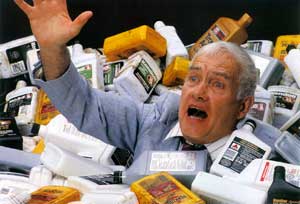 In 1972, AMSOIL produced the first synthetic motor oil recommended for 25,000-mile/one-year drain intervals. It struck a blow against the wasteful practice of changing oil every 3,000 miles/three months. Today, many lubricant manufacturers have followed the AMSOIL lead and introduced extended-drain motor oils of their own, while original equipment manufacturers (OEM's) now recommend drain intervals of up to 15,000 miles, and longer if using electronic oil life monitoring systems. AMSOIL innovation has prevented millions of gallons of waste oil from entering the supply stream. In addition, AMSOIL synthetic lubricants reduce air pollution from exhaust emissions due to lower volatility, while industry testing confirms AMSOIL synthetic lubricants and fuel additives increase fuel economy (saves gas and fuel!).
The AMSOIL environmental philosophy goes deeper than its products and includes its management process and facilities. AMSOIL is now registered to the environmental standard known as ISO 14001:2004. A third-party registration body (NSF) has recognized AMSOIL for its commitment to sustainability throughout all aspects of its business.
AMSOIL products are packaged in recycled cardboard, which provides significant environmental savings. Here are the estimated annual environmental savings based on the average recycled content of corrugated containers supplied to AMSOIL:
1,340 tons of wood not consumed
6,952 trees preserved
3,677 BTU's of energy not consumed
1,181,863 lbs. of CO2 equivalent no emitted
4,602 lbs. of air pollutants not generated
4,995 lbs. of water pollutants not generated
3,707,523 gallons of wastewater not generated
2,862,426 gallons of water not consumed
532,406 lbs. solid waster not generated
1,349 cubic yards of landfill space saved
AMSOIL recycling efforts generate more income than waste disposal costs. In fact, the entire 400,000 square foot AMSOIL Center in Superior, WI, produces only one dumpster load of waste every six weeks!
Installing AMSOIL Synthetic Motor Oil in every passenger car/light truck in America and practicing 25,000-mile/1-year drain intervals would eliminate 35.7 billion quarts of oil.
Click here to read the details of AMSOIL's environmental stewardship–and take advantage of these environmental benefits today!