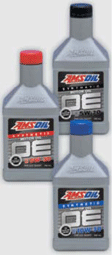 AMSOIL is introducing its latest line of synthetic motor oils. AMSOIL OE Synthetic Motor Oils are specially formulated for the longer oil change intervals recommended by vehicle manufacturers today. Available in three viscosities, this advanced synthetic technology resists chemical breakdown for maximum wear protection (and peace of mind) well beyond the traditional 3,000-mile oil change interval. These API-certified OE Synthetic Motor Oils have been designed to meet the new API SN, ILSAC GF-5, and GM dexos1™ (SAE 5W30 viscosity) specifications.
AMSOIL OE Synthetic Motor Oils help provide better wear control, high- and low-temperature protection and increased fuel economy compared to conventional oils. The oil drain interval recommendations for many of today's vehicles extend well beyond the traditional 3,000-mile interval, some up to 12,000 miles with electronic oil monitoring systems. AMSOIL OE Oils provide excellent protection and performance for the entire length of the original equipment manufacturer's recommended drain interval.
AMSOIL, the leader in automotive synthetic lubrication, produced the world's first API-qualified synthetic motor oil in 1972. Trust the extensive experience of AMSOIL, The First in Synthetics®, to do the best job protecting your engine.
Here is the link for more info: https://www.thebestoil.com//products/amsoil-synthetic-motor-oils-motor-oils-that-are-designed-not-refined/