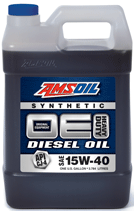 New AMSOIL OE 15W-40 Synthetic Heavy Duty Diesel Oil provides excellent protection and performance in both on- and off-road diesel engines for the original equipment manufacturer's recommended drain interval. It meets API CJ-4 specifications and is suitable for both modern and older diesel applications.
AMSOIL OE 15W-40 Synthetic Diesel Oil exceeds the higher performance demands of modern engines and withstands the stress of heat, soot and acids to help prevent deposits, wear and corrosion.
While providing premium protection for diesel engines, AMSOIL Synthetic OE 15W-40 Diesel Motor Oil has a lower price point, thus making it cost effective for performance-minded customers who want to change their oil at OEM recommendations, including newer diesel pickups faced with fuel dilution issues.
Check it out here!