Order your AMSOIL Products Factory-Direct
Anytime, Anywhere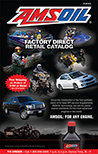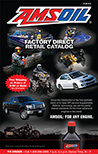 To check pricing, Download Catalog or Order Immediately via the AMSOIL Online Catalog –
Click Here for the U.S. Retail Catalog (6mb PDF file)

Click Here for the Canadian Retail Catalog (5mb PDF file)
The AMSOIL U.S. and Canadian Factory Direct Retail Catalogs enable you to order AMSOIL Products anytime, anywhere, by calling the toll-free ordering number, 800-956-5695, and providing Referral #5931, to place your order.
Your order will be shipped directly to you from AMSOIL's closest Distribution Center. The AMSOIL Factory Direct Retail Catalog is comprehensive and contains brief overviews of most of AMSOIL's high-performance product line.
(Please let us know which Amsoil products you are interested in: i.e. motorcycle, general automotive, trucking, marine, heavy equipment, racing, etc.. This will enable us to include information that will address your specific interests).